Discover the Best Bicycle Oil Wipes environment friendly from Donzee Enterprise Ltd interview during Taipei Cycle 2022 Show. This multi-fonction industrial grade wipes were presented during a meeting with Amy. I learnt a lot about the best way to clean your hands and your bike while preserving the environment with Ridof Wipes.
Donzee wipes have an exclusive lemon oil formula easily loosens the connection between surface and oil. Soft non-woven wipes gently reach the gaps and surfaces to perform a thorough cleaning.
Ridof Wipes from Donzee Entreprise Ltd
While attending the TaipeiCycle Show 2022 I had the pleasure to interview Amy CHEN from Donzee Enterprise Ltd. Their brand sells internationally: Ridof Wipes, which is one, if not the Best Bicycle Oil Wipes on the market.
Donzee's wipes do not include petrochemical solvent (often used as industrial cleaner) that can be harmful to our planet. It integrates a small amount of medical alcohol on baby bio-degradable wipes to reduce impact on nature and avoid log lasting negative waste. You can refer to the company's website for their Toxic-free certificates from international regulatory bodies (CA Prop 65 List, REACH SVHC and SGS).
Donzee Enterprise Ltd's most famous product is the large size box of 336 wipes that can be used for cleaning oil related grease. The company has an international customer based as for example oil industry in the Middle East such as oil firms in Dubai.
Donzee Enterprise Ltd's strategy
The Covid period made it a bit difficult to organize attendance to the international shows and therefore uneasy to meet new customers, but as the situation improves, Amy's company will be increasing its international reach towards new customers.
Donzee presents in 2022 a new lid on their box packaging to easy the access to its wipes on all size boxes. They also add a new antibacterial function in their product cleaning recipe. It is the fastest and easiest way to clean industrial and heavy duty messes like grease, tar, silicone, paint, adhesive, resin, grime and more.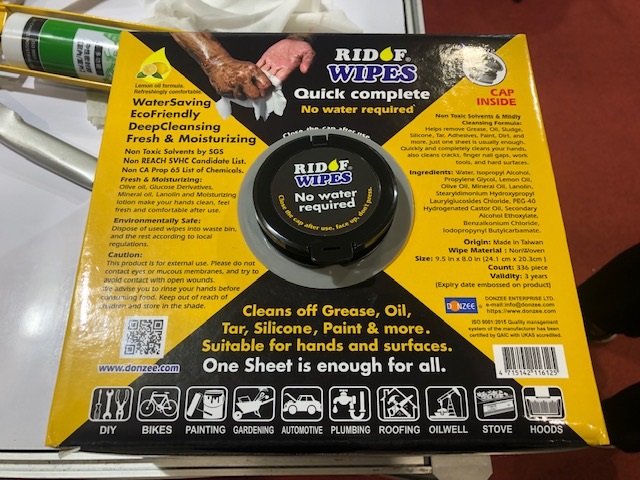 Amy's typical customers are distributors and factories, that have a daily use of oil cleaning wipes as well as cycling chain oil cleaning needs. Her company is looking for new partnerships in many countries to distribute their products. Distributors who can do a 2 palettes MoQ are welcome.
Ridof Wipes Applications and Use Cases
Amy CHEN's Best Bicycle Oil Wipes can also be used in a wide array of cases:
DIY home tooling wipes
Painting wipes
Car cleaning wipes
Roofing wipes
Stove cleaning wipes
Bicycle cleaning wipes
Gardening wipes
Plumbing wipes
Oilwell wipes
Hood cleaning wipes
Donzee Enterprise Ltd details
The group was created in 2003. They have offices in Taichung and have 10 to 15 employees as of now.
The business address is: No. 18, Ln. 301, Fengzhou Rd., Shengang Dist., Taichung City Taiwan​ 42945
View Larger Map
Donzee Enterprise Ltd's official website is to be found at: https://www.donzee.com