While visiting the Taipei Cycle Show 2022 I had the pleasure to interview Erica LEE from New Epic Group Co Ltd, a new Cycling Googles Manufacturer. Their brand manufactures and sells internationally: Sunglasses, Sport Glasses, Safety Glasses, Cycling Googles Eyewear, Prescription Eyewear and Goggles for many different industries.
New Epic Group Co Ltd | OEM
Their aim is to develop special eyewear designs for their customers. They have developed a wide range of cycling glasses. Some of them can accommodate polycarbonate frame and temples, allow for two tone colors frame with oversize lens in half or full frame.
The cycling goggles have comfortable rubber tips with adjustable rubber tips. Some models are compatible with a RX adaptor that will allow the cyclist to have mounted prescription lens. The photochromic cycling glasses have also become very trendy over the years and Erica will assist you to get the best and latest photochromic performance.
Of course the cycling eyewear includes special features such as: UV 400 Protection, impact resistance, compliance with the ANSI Standards and CE Standards. Some models allow interchangeability of the lens to adapt to the rider's weather conditions encountered on the road.
New Epic Group Co Ltd's cycling glasses best seller is: NES 0012 cycling eyewear
New Epic Group Co Ltd's strategy
2021 was a complicated year for many companies due to Covid. It made it difficult to travel and meet with customers and new prospects. Nevertheless 2022 has a bright perspective ahead for Erica and will be able to market her products and prospect many market segments.
New Epic Group has a large panel of products serving customers in various industries, one of them being the Cycling Googles Eyewear. Their moto is: Quality, Innovation, Artwork & Partnership. They elaborate strategies to deliver the best cycling eyewear from creation, design and manufacturing.
As per customer requirements they also deliver the final eyewear packaging (including accessories such as eyewear straps, lens cleaning cloth, EVA cases, hard cases or glasses soft pouches) to present the best final product to their clients.
New Epic Group Co Ltd fun facts
Erica LEE is a Sales Executive at New Epic Group Co Ltd, she does not ride a bicycle but she commutes everyday with her scooter. Erica does not have a favorite pro-cyclist nor have the time to follow UCI Competitions, but she is dedicated to develop new innovative cycling glasses for her customers.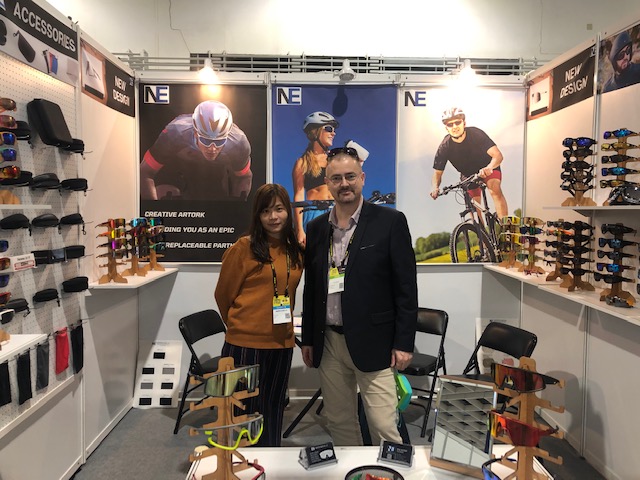 New Epic Group Co Ltd details
The business was fonded in 2021. They have locations in Taoyuan and have 5/10/2022 12:00:00 AM employees as of now. The business address is: No. 26, Ln. 232, Sec. 2, Minzu Rd., Zhongli Dist., Taoyuan City 32048 , Taiwan (R.O.C.)
New Epic Group Co Ltd's official website is to be found at: https://www.newepiceyewear.com