Although cycling is considered as a less physiological aggressive sport than many others like running, it is still provoking some physical problems. Learn in this article how to prevent pudendal neuralgia in cycling. We are often asked: "Can bike riding cause nerve damage?" and the answer is yes: it is mainly cause by long periods seating on your saddle.
What is pudendal neuralgia
One of the main area of pain while cycling is located in the perineum area between your legs. These soft tissues are in direct contact with your saddle and a major part of your body weight is exerting pressure.
A lot of cyclists will suffer from the long hours sitting on their saddle, resulting in various medical conditions, among which is the compression of the pudendal nerve for cyclists, who will endure:
pain from penis to anus
burning feeling
numbness
tingling feelings or pins and needles
sometimes penis pain after intercourse
Where is located the pudendal nerve
The pudendal nerve is one of the main nerves that innervates the perineum, i.e. the intimate area between the clitoris and the anus for women and between the penis and the anus for men.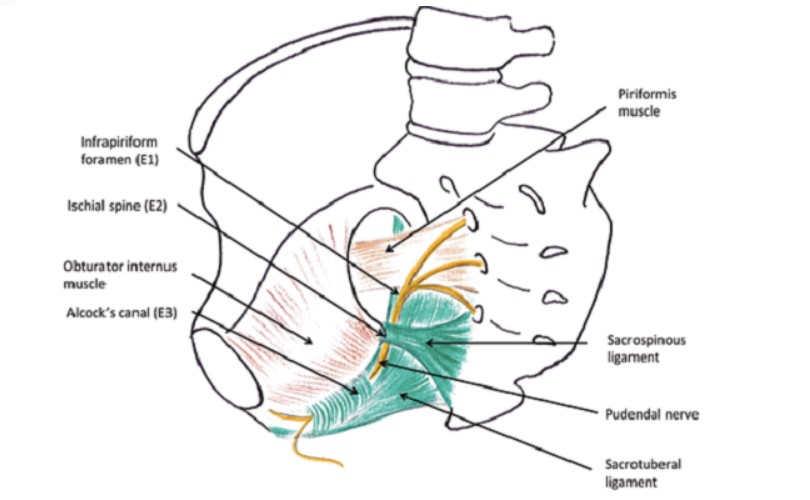 Pudendal neuralgia is usually related to a compression of the nerve during its course in the different tunnels or canals it passes through (ductal syndrome). The compression can be at different levels: ligamentous conflicts (clamp between 2 pelvic ligaments: sacro-tubal and sacrospinous) or aponeurotic (fibrous envelope around the internal obturator muscle or Alcock's canal).
How to prevent pudendal neuralgia while cycling
The first things to consider is to take all actions required to reduce the frictions and pressure applied to the perineal area:
always ride your bicycle with a 3D padded short (also called padded bib)
change your bicycle seat for a model ideally a noseless saddle also with central hollow form
make a postural study to adjust your position on your bike to prevent inadequate postures
make regular small breaks during your long rides
reduce the frequency of your cycling trips
Here is a list of the best bike saddle to prevent numbness while cycling.
In case you are starting to have tingling feelings or pins and needles, you should immediately seek medical advice and upgrade your cycling short and bicycle saddle. You can also use an electro-stimulator that will contract and relax your muscles and ease the pain.
These muscle stimulators are know to provide relief and should help to reduce pain.
How to choose the best seat cushion for pudendal neuralgia
You also have to consider investing in a home seat cushion to protect you at all times (even when you are not cycling). That includes cushions for your home and office if you are seating long hours but also in your car if you have long driving hours.
This will alleviate your groin numbness and reduce the time when your perineum gets pressurized.
What are the best seat cushion for pudendal neuralgia
Here is a selection of the best seat cushion for pudendal neuralgia to use at home and in your car. The donut pillow gel seat cushions are quite famous and furthermore inexpensive. They are also useful if your suffer from coccyx (tailbone) pain & hemorrhoids.
Donut Pillow Gel Seat Cushion by AnboCare – Orthopedic Donut Cushion, Premium Memory Foam Seat Pad, Hemorrhoid Pillow Cushion Provides Relief for Postpartum, Prostate, Coccyx & Sciatica Pain

PAIN RELIEF: This cooling gel pillow for sitting can help relieve the symptoms of hemmorhoid, pressure ulcers, prostatitis, postpartum, lumbar pain, or bed sores. Our donut pillow also makes a great pregnancy pillow or travel pillow for back pain.
MEMORY FOAM DONUT PILLOW: The AnboCare premium chair cushions are built with memory foam and comes with a cooling gel layer on top to keep you cool and comfortable. This durable donut seat will not flatten over time! It provides you excellent support and reduces pressure on your lower back, coccyx, tailbone, perineal, bursitis, pelvic and anal region.
FITS ANY CHAIR OR SEAT: You can take our portable donut pillow for tailbone pain anywhere! It can be used on any type of seat in a car, truck, train, bus, airplane, or stadium. This hemorrhoid cushion fits on any kind of office chair, wheelchair, sofa, dining chair, or recliner.
WASHABLE COVER: The AnboCare coccyx cushion features a non-slip base so the seat pillow stays in place and does not slide or shift. The durable mesh cover promotes breathability and air circulation. Keeping your sitting pillow fresh is easy. Simply unzip the cover, remove it from the pillow and toss it in the washing machine!
FIRM CIRCLE PILLOW: We proudly stand behind the quality of our tailbone cushion and offer a 30-day replacement. The donut pillow for hemorrhoids provides firm support for up to 300lbs. If your preference is a soft pillow this might not be the right one for you.

Donut Pillow Hemorrhoid Tailbone Cushion – Small Seat Cushion Pain Relief for Coccyx, Prostate, Sciatica, Pelvic Floor, Pressure Sores, Pregnancy, Perineal Surgery, Postpartum Recovery

Mesh Polyester Cover
Quick Rebound Memory Foam
Instant Relief From: Hemorrhoids, hip bursitis, broken tailbone, herniated discs, bed sores, anal fissures, ischial tuberosity, fractured coccyx, pressure related to childbirth, vaginal surgery, and sitting for long periods of time that can cause lower back, hip, leg pain
Ergonomic Design: Shaped like a doughnut with an ergonomic "U" shaped cutout, our butt pillow conforms to lower body contours providing natural support with little to no pressure on your most sensitive areas
Firm and Supportive Foam Core: The 5 Stars United seat pillow may feel firm initially, but it is heat reactive, which means it will soften once it absorbs heat from your body. Durable foam core keeps its original shape even after prolonged use seat pillow may feel firm initially, but it is heat reactive, which means it will soften once it absorbs heat from your body.
Key Features: Tailbone pain relief cushion is large enough for all at 16″ x 13″ x 2.75". It's a wonderful fit for an adult with body weight up to 240 lb. The sciatica pain relief pillow has a non-skid backing that prevents slippage. Our coccyx cushion has a breathable mesh cover that doesn't trap heat, so you sit comfortable and cool. The donut seat cover is removable and machine washable
Fits Most Chairs and Seats: This sitting donut pillow fits most office chairs, gaming chairs, desk chairs, computer chairs, standard dining chairs, car driver seats, couches, wheelchairs, and recliners. Must have accessory if you are working from home
Discover the best bike saddle for pudendal nerve
Here is according to us the best bike saddle for pudendal nerve. This model revolutionize the bicycle seat market. It provides the largest central hollow part and allows you to benefit of the best anti-numbness seating position.
Your perineum will be completely friction free and your seat bones (the same bones you are using to seat on a chair) will be supporting your weight, thus avoiding compression of the nerves that innervates the perineum.
With this saddle you eliminates the root cause of pain, numbness, loss of sensibility and erectile dysfunctions. Click on the image to learn more on this model.
Can cycling cause pudendal neuralgia?