How to recognize a piriformis syndrome in cycling?
Piriformis syndrome cycling is a compression of the sciatic nerve by the piriformis muscle (a flat buttock muscle located near the hip), causing pain in the buttocks and sometimes sciatica.
The piriformis muscle extends from the pelvic surface of the large triangular bone at the base of the spine (sacrum or coccyx) to the trochanter at the top of the femur. When cycling, running or sitting, this muscle can press on the sciatic nerve on the side where it exits from under the piriformis to pass over the hip rotator muscles. Piriformis syndrome is rare.
Symptoms of piriformis syndrome for cyclists
Chronic nagging pain, tingling or numbness begins in the buttocks and can travel down to the entire back of the thigh and calf, and sometimes the foot. The pain worsens when the piriformis presses against the sciatic nerve (for example, while sitting on the toilet, in a car or narrow bicycle seat, or while running). Sciatica can prevent you from continuing cycling.
Doctors diagnose piriformis syndrome based on the person's symptoms, as well as the results of their clinical examination. Doctors may move the leg or ask the person to flex it, as piriformis syndrome is diagnosed when specific movements are painful.
How to unblock the piriformis muscle?
Rest
Rehabilitation (take appointment with your doctor and go see a physiotherapist)
Consider changing your saddle for a the best noseless saddle
Bicycle settings for the piriformis syndrome cycling saddle height is key!
Make a postural study to select the best position on your bicycle
Individuals should temporarily stop doing any activity that causes pain. If pain is aggravated by sitting, individuals should stand up or, if unable, change positions to eliminate the source of pressure around the buttock. Specific stretching exercises for the posterior hip and piriformis may be helpful. Nonsteroidal anti-inflammatory drugs (NSAIDs) or other pain medications may be used to relieve pain. Doctors sometimes inject a corticosteroid near the site where the piriformis muscle crosses the sciatic nerve to temporarily relieve the pain. Surgery is rarely necessary.
How to unblock the piriformis muscle for cyclists in video
Does cycling irritate piriformis syndrome?
Acupuncture for piriformis syndrome sciatica
Acupuncture may be beneficial if you suffer from sciatica or piriformis syndrome. Many If you have sciatica or piriformis syndrome, acupuncture may have a positive therapeutic effect. Because the symptoms of sciatica and Piriformis syndrome are so similar, many patients confuse the two. Both can induce tingling, numbness, and pain in the back of the thigh and legs, but the causes are different.
Acupuncture makes your pain system less defensive. It accomplishes this by increasing pain-inhibiting pathways. It's a mechanism known as descending inhibition. Acupuncture has been proven to increase descending inhibition as a result of its influence on the brain (acupuncture has an analgesic effect), reducing pain and increasing pain threshold.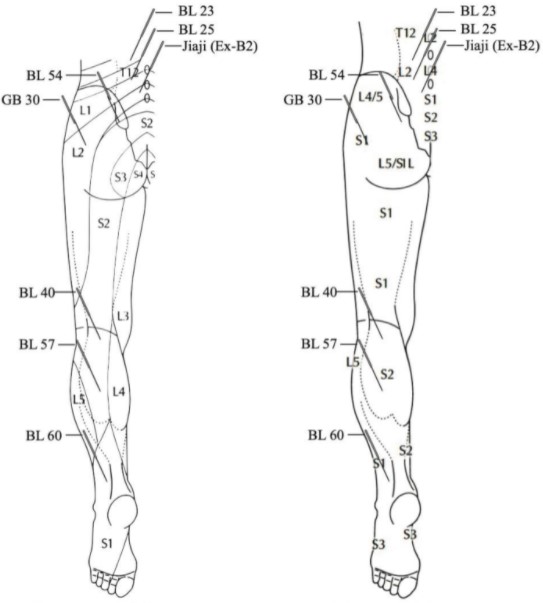 Yoga for cyclist piriformis syndrome
There are many piriformis syndrome chiropractic treatment techniques. We already discussed the acupuncture as a way to relax muscles and reduce pain levels. Before you even consider piriformis syndrome surgery, you should implement at least implement the below described stretching routine.
If not everyday, you should follow this yoga piriformis syndrome prior AND after each of your rides to maximize flexibility and reduce the appearance of pain. It will be as if you are getting a massage for deep gluteal syndrome from the inside of your body, and could keep you away from piriformis syndrome surgeons.
We consider that a daily yoga routine is the best massage for piriformis syndrome you can get. Yoga stretches will bring you flexibility, not only for your deep gluteal muscles, relaxation and is cheaper than attending a physiotherapy massage to treat your cycling piriformis syndrome.
Best chair for piriformis syndrome
Avoid intense activity that may aggravate the pain, as well as long period sitting, particularly against a pressure point like a pocketbook. Ice and relaxation could be beneficial. Individuals with piriformis syndrome may be given a variety of home stretching and strengthening activities as therapy for the body.
We recommend to take a position directly on top of the seat bones. Once you find that right spot based on the butt bones, contract your abdominals lightly and relax your upper body, especially the shoulders and neck. Best is to invest in one of the following chairs:
If you are suffering from the piriformis syndrome or sciatica from cycling, or if you start experiencing light syndromes, you should use an adequate Ergonomic chair such as the Steelcase Gesture Chair.
It includes adjustable seat depth, fully adjustable arms, pneumatic seat height adjustment, recline tension adjustment, 4 position recline lock, shell back and seat, light/light frame color scheme
Steelcase Gesture Office Chair – Cogent: Connect Graphite Fabric, Shell Back, Light on Light Frame, Polished Aluminum Base

Connect fabric is 100% polyester
Wheels for carpet flooring
Ergonomic chair – features include adjustable seat depth, fully adjustable arms, pneumatic seat height adjustment, recline tension adjustment, 4 position recline lock, shell back and seat, light/light frame color scheme
All day comfort and back support – Gesture's seat and back move as a synchronized system, following your body as you move throughout the day to ensure long-term support
Quality & durability – designed to withstand 24/7 use while providing maximum comfort
Duramont Ergonomic Office Chair – Adjustable Desk Chair with Lumbar Support and Rollerblade Wheels – High Back Chairs with Breathable Mesh – Thick Seat Cushion, Head, and Arm Rests – Reclines

★ MORE ADJUSTABLE THEN ANY OTHER CHAIR IN ITS CLASS — Unlike the office chairs sold by our competitors, which allow you to either fully recline or sit upright, we have a SECOND adjustment lever that allows you to lock in your desired recline angle at ANY degree. That way, you can be assured of finding the perfect comfortable seating position just for you.
★ BREATHABLE MESH – The breathable mesh back on this ergonomic office chair provides support while keeping your back cool and comfortable. Cool air circulates through the mesh keeping your back sweat-free and allowing you to sit in the chair comfortably for longer periods of time compared to traditional chairs
★ FULLY ADJUSTABLE BACK SUPPORT – Having back issues or don't want to develop them? Our unique office chair includes adjustable lumbar support that goes in and out, up and down, and a recline feature that allows you to tilt the backrest back or sit straight. Now you can quickly find a position that makes your back feel the most comfortable!
★ EASY TO INSTALL – Simple instructions enable anyone to put this executive chair together in eight simple steps! Then once built you'll be able to adjust the chair to your individual needs. The chair's pneumatic controls will let you raise or lower the seat and tilt back the backrest or sit straight up. You can easily find the ergonomic position that will allow you to work comfortably for long periods of time
★ HIGHEST QUALITY WITH 5-YEAR WARRANTY – This adjustable task chair is made to last. It has a weight capacity of 330 LBS and is made from the highest quality materials, including a soft cushion seat, sturdy arm and head rests and rollerblade caster wheels that allow you to move easily across the office floor. Get your office chair – and boost your work comfort! Your purchase will be backed by a 100% money-back guarantee. Try this chair for 90 days – if you don't love it, you can return it
A cheaper model: the Duramont Ergonomic Office Chair will help prevent aggravating your condition and the investment is worth avoiding falling in analgesic treatments.
The Adjustable Desk Chair with Lumbar Support and Rollerblade Wheels – High Back Chairs with Breathable Mesh – Thick Seat Cushion, Head, and Arm Rests – Reclines
Best piriformis syndrome sleeping position
The most effective technique, sleeping on your back, is tis to keep your spine aligned and your hip muscles relaxed. Sleeping on your back (mostly suggested) might be uncomfortable if you have piriformis syndrome or sciatica, in people's experience. The discomfort can sometimes spread down to your knee, making it difficult to move your leg.
Sleeping with piriformis syndrome is not easy. Avoid stomach sleep as much as possible. Sleeping on your stomach increases your chances of rolling your neck to one side and puts a lot of pressure on your cervical spine down to your lower butt. Staying in the same position the whole night can negatively impact your posture and mood the following day.
this concludes our article on piriformis syndrome cycling advices. You can share this article or ask a question in the section below. Enjoy your rides without piriformis syndrome!