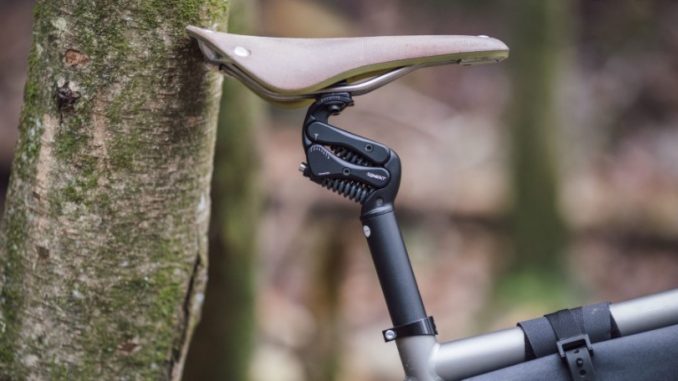 Considering that bicycle frames are rigid structures and that most of the cyclist's weight is applied on the saddle, a lot of riders suffer on their bicycle seat. Of course, choosing a comfortable saddle is very important but you can improve your pleasure riding with and adequate seatpost upgrade while reading our best suspension seatposts review. Don't forget to also consider the pressure and size of your tires.
The best fact about suspension seatpost upgrade is that, it is easy to install and it can be cheap (less then $100).
Why should you use a suspension seatpost
To reduce road impact & improve bicycle seat comfort. While reducing vibrations & chocks from road bumps, you will have less risks of damaging your perineum soft tissues, have less pain and recover faster from your rides
You will be able to make longer rides without the urge to stand up to alleviate pressure on the perineal zone (happens a lot for people having prostate issues) and save muscle strength in the legs. This will also help you prevent pudendal neuralgia in cycling.
You will have a lesser impact on your lower back, as a lot of cyclists suffer from back pain. Vibrations, frictions and compressions will be significantly reduced.
If you have small road tires, you will be able to go off the road easily as road imperfections won't be directly transferred directly from the frame to your saddle.
Instead of investing in a pricy full suspension road bike, you can opt for a cheaper investment in your existing bicycle through a suspension seat post upgrade.
Drawback of a suspension seat-post
You will add extra weight to your ride. You can assess the additional weight below in the respective suspension seat-post reviews
Suspension seat-post implies the appearance of bob while pedaling, through your body movements and the suspension activation..
suspension seat-post are un-necessary if you already have a full-suspension bike (all suspension needs are already covered by the bike suspension) or if you a fat bike (where the fat tires are also playing the amortization role).
What are the different damping systems of the best suspension seatposts
Spring damping suspension seatposts
Consider the seatposts with spring damping suspension. These seatposts are really bouncy, is the best way you would describe them! They're especially good on off-road terrain because they're so responsive to bumps. However, this great sensitivity comes at a price: when spring posts are set up correctly for rocky terrain, they bob more than anyone would want on flat areas. Adjusting the spring preload is the simplest technique to limit this movement (or the amount of force required to cause the saddle to start moving). This will prevent the saddle from bobbling, but it will also diminish the seatpost's ability to cushion tiny bumps. If you prefer smooth roads, you'll probably find spring seatposts a little too stiff.
Elastomer suspension seatposts
Suspension seatposts made of elastomers are discrete but efficient, as they are barely noticeable beneath your saddle. This is due to the fact that elastomers have a slower rebound speed after a shock, which is especially useful while riding on rough surfaces like gravel roads. For a better description, you'll appreciate the more subdued sensation of an elastomer post since it feels more 'natural.' Elastomers have the disadvantage of firming up in cold temperatures, making them stiffer, therefore avoid this material design if you require it to cycle in negative temperatures. You'll have to apply lubrication on the elastomer's edges, however this may be replaced through the use of a seatpost layer cover.
Air damping suspension seatposts
Air damping suspension seatposts are usually used in telescopic seatposts. You will benefit from the possibility to adjust the spring rate to the exact level of accuracy you want to reach.
Suspension seat post designs
Linkage-driven suspension seatposts
Forces coming up from the rear wheel will cause the seatposts to move in the same direction. This enables them to effectively offset, if not completely neutralize, bumps, so minimizing the impact forces that flow through your back and bottom. Furthermore, when the seatpost is compressed, linkage posts ensure that the saddle-to-pedal distance is mostly maintained.
Telescopic suspension seatposts
A telescoping post is commonly thought to be inferior since the angle at which it compresses differs from the direction of force coming from the rear wheel, resulting in a less reactive seatpost system. When riding over bumps, telescopic posts result in a reduced saddle-to-pedal distance. Telescopic posts, despite their limitations, are nevertheless widely used since they are frequently lighter, less expensive, and have a lower installation height.
What is the best suspension seatpost according to road profile
The spring seatposts are by far the most effective at minimizing vibrations on the rocky path. Meanwhile, the elastomer Cane Creek eeSilk improves vibration by about half as much. It's worth mentioning, though, that this seatpost has just about half the suspension travel. It'd be fascinating to see how an elastomer seatpost with a longer travel compares.
The air seatpost helped a little, but it still needs a lot of bump force to work. Despite the difference in suspension travel, the difference between an elastomer and a spring seatpost narrows on the gravel road with fast repeating bumps. Because the bump force is lower on gravel roads, the spring post is likely only using half of its travel in any case. The air seat post resembled a standard carbon seat post in appearance.
How do you choose the best Suspension seatposts for travel ? they are best chair for piriformis syndrome available with road cycling shoes with composite, fiberglass or carbon sole anything from 20 to 90mm of travel !

https://www.youtube.com/watch?v=u1e3g8uqrJU

https://www.youtube.com/watch?v=u1e3g8uqrJU
More suspension travel is required on rougher routes. More suspension travel will assist you if you're cycling on rougher roads with increased forces applied on the back tire, like we just witnessed in the test. It can absorb more vibrations. Most tough roads may be pleasantly rode with just 35mm, but if you're hitting bumps at greater speeds, 50mm or more may be required.
Longer suspension travel is also more suited to more upright riding positions. This is owing to the fact that your saddle carries a bigger amount of your weight. You can get away with less suspension travel if you have more weight on your hands because you ride in a more athletic position.
Is a suspension seatpost worth it on a road bike?
Best suspension seatposts review
Finally, let's review now the major best suspension seatpost products on the market.
Kinekt Suspension Seatpost
With 35mm of travel, the Kinekt 2.1 and 3.1 are among the most active seatposts on this review. There are five different spring rates to choose from, all of which are suitable for riders weighing up to 145 kg. At 471 grams, the carbon variant is the lightest coil-sprung seatpost available. Because these seat posts are more active in the beginning of their journey, they are better suited to rougher terrain than smoother roads, according to road experience. However, the preload control knob, which is an optional addition for $16, may quickly tighten things up without the use of any equipment.
Kinekt Bike Suspension Seatpost, XR Lightweight Alloy Seat Post for Road, Gravel and E-Bikes, Adjusts to Match Weight and Riding Style, Quick and Easy Set-up, XR | 27.2mm | 350mm

COMFORT IN MOTION – Feel the smooth difference of Kinekt Seatpost as it floats over any terrain or road surface absorbing more shock, providing better control, and less fatigue. Kinekt's adjustable active suspension springs are made to match your weight and riding style to get you back in the saddle and on the trail, road, beach or mountain without delay.
FIND YOUR SEAT POST: 【STEP 1】RIDER WEIGHT – LR if you weigh 80-180 lbs. (36-82 kg) or XR if you weigh 180-320 lbs. (82-145 kg).
【STEP 2】 DIAMETER – Find the measurement printed on your current seat post or look up the spec for your bike and model on-line.
【STEP 3】 LENGTH – You need at least 40mm between seat rails and top of seat tube for proper fit. Find the length printed on your current stem or look up on-line.
BIKE TYPE – If you are choosing a Kinekt suspension seatpost for an e-bike, we recommend choosing the LR for riders under 150lbs (68kg) and going with the XR for riders over 150lbs, this accommodates the in-saddle riding style and weight distribution that e-bikes produce.
REDSHIFT ShockStop Suspension Seatpost for Bicycles, Shock-Absorber Bike Seat Post for Road, Gravel, Hybrid, and E-Bikes, 27.2mm x 350mm

RIDE FURTHER, FASTER, AND MORE COMFORTABLY – The ShockStop bicycle suspension seatpost is the perfect upgrade to your current bike and makes a perfect e-bike seat post, gravel bike seat post, hybrid bike seat post, or road bike seat post. More comfort at the saddle means you'll be able to ride longer, go faster, and stay in control even on the roughest terrain.
DAMPEN BUMPS AND VIBRATION BY UP TO 60%! – Say goodbye to your sore butt and pain from riding and say hello to increased control, more confidence, and a super smooth ride. The patent-pending ShockStop suspension seat post for bicycles reduces the effects of bumps, shocks, and road buzz by up to 60%!
REDUCE FATIGUE AND INCREASE EFFICIENCY – Stop wasting energy suspending your body to absorb impacts and vibrations. This shock-absorber bike seat post allows you to stay in the saddle and keep pedaling even over the most extreme terrain. Consistent power output and reduced fatigue enable you to go further and faster on the bike you already own.
35mm OF TUNABLE SUSPENSION TRAVEL – The ShockStop bike seatpost with suspension has 35mm of tunable, ultra-responsive suspension travel. The optimized four-bar linkage ensures that your saddle angle remains constant through the full range of travel. Adjust the preload and swap in and out springs to find your perfect setup and match the seatpost to your preferred riding style.
EASY TO INSTALL AND MAINTENANCE FREE – The standard 27.2mm x 350mm sizing allows this shock-absorbing bike seat post to fit all modern bikes and install in minutes (shims are available to fit bikes with larger size seatpost). Game-changing smooth-riding biking accessories.
Redshift Shockstop Seatpost
The Redshift Shockstop is the best coil-sprung post tested so far, as it appears to absorb off-road bumps well while not wobbling too much on smoother roads. It is, however, far from ideal. When I got the preload for off-road conditions just right, I discovered there was a lot more bob on the road than I wanted. Unfortunately, because the preload bolt is located at the bottom of the seatpost, it's not an adjustment you'll want to make on a regular basis. The Shockstop is 547 grams in weight and is suitable for cyclists weighing up to 110 kg.
By.Schulz G.2 suspension seat post
The By.Schulz G.2 is an extremely popular seatpost. There are two suspension seatpost options: a 30mm short-travel variant and a 50mm long-travel version. There are five different spring rates to choose from, with riders weighing up to 150 kg being accommodated. There are ten different diameters to choose from, so they'll adapt practically to any bike. The disadvantage of this seatpost is that it does not have a preload adjuster, so it may feel springy at times, and it is also heavier than others, weighing around 700g.
by.Schulz Unisex – Adult G.2 LT Spring Seatpost, Black, One Size

Parallelogram sprung seat post
Can hold up to 150 kg rider weight.
Brand: by.Schulz.
Suntour NCX seatpost
The Suntour NCX is the low-cost suspension seat post of choice. It's a steal at around $100 or less, but there are a few drawbacks: it's quite hefty (about 800g) and only comes with one spring rate out of the box (but softer and stiffer springs cost only $15). There is a limitation for the cyclist's weight: 120 kg maximum.
Cane Creek Thudbuster seatpost or Thud LT
Because of its slower rebound speed, you might believe it's a great option if you spend a lot of time riding on smoother surfaces. Off-road, 50mm of travel is more than plenty. There are four spring rates to choose from, each ideal for riders weighing up to 150 kg. If you ride a mix of gravel and tarmac roads, you won't find a better bike than the Cane Creek eeSilk. With half the weight and half the travel of standard squishy posts, it performs equivalent to the best carbon seatposts available.
Cane Creek Thudbuster ST Suspension Seatpost 27.2 (Newest Version)

Seatpost Diameter: 27.2
Travel: 50mm
Minimum Extension: 100mm. Maximum Extension: 244mm
Minimum Insertion: 100mm
Max Rider Weight: 330lbs / 150kg
However, unlike a carbon post, the spring rate is not governed by the amount of exposed seat post, allowing you to fine-tune it to your body weight using the five various elastomers available. Dropper posts with telescoping designs have very little vertical flex, which is an undesirable consequence of their design. There are two suspension options available if you want dropper posts but also want to improve your ride comfort (and a third in the works).
The Byschulz D.2 is the best-performing suspension seatpost. This coil-sprung alternative is pricey, but it will stay highly active on uneven surfaces. There are numerous spring rates to choose from and 30mm of travel, much like the ordinary Byschulz post.
The PNW Coast, which has 40mm of suspension and is by far the greatest value dropper, is the alternative dropper option. Gravel bikes have found that this air spring technology is significantly less active than other suspension seatposts, but it nevertheless absorbs the shock of larger impacts and performs well on gravel roads.
In conclusion, a suspension seat post is an excellent comfort addition because it absorbs larger impacts as well as dampens road vibrations. This essentially means that at the end of a long ride, you'll feel more energized.
A spring-damped seatpost is unbeatable for anything sluggish and off-road. These posts are extremely active underneath you, allowing you to sit for considerably longer on rough surfaces. If you ride a lot on smoother ground or are sensitive to suspension bob, elastomer seatposts are a better choice because they are less noticeable underneath you. I personally use and recommend the Cane Creek eeSilk. It's ideal for those who prefer a dynamic riding position or want to ride on smoother roads. You'll have to compromise on the harder roads because it only has 20mm of travel, but I still think it's a substantial improvement over a standard post. Furthermore it won't bounce, it's light weight and it's esthetic looking.
Video about the best suspension seatposts Opinion